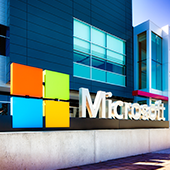 Microsoft Edge is a web browser that offers a fast, intuitive, and productive user experience. If you're in the market for a new and high-performing browser, Microsoft Edge has several new features that are worth checking out.
1. Vertical tabs
Vertical tabs are a handy feature if you often find yourself opening dozens of tabs at once at any given time. Instead of having to hover over or click on one to see which page it's on, you can easily find and manage your tabs on the side with a single click. You'll never have to lose track of or accidentally close tabs again.
With the recent Microsoft Edge update, users will now be able to hide the horizontal title bar at the top of the screen so there's additional vertical space to work with. To enable this feature, go to Settings > Appearance > Customize toolbar and select Hide title bar while in vertical tabs.
2. Tab groups
Microsoft Edge allows you to group related tabs so you can better organize your web browser and workspace. For instance, you can have all project-related tabs grouped together and designate another tab group for recreational YouTube video watching. Using tab groups is as easy as right-clicking on an open tab and selecting Add tab to a new group. From there, you'll be able to create a label and choose a color to identify the tab group. When the tab group is set up, you can add tabs to the group by clicking and dragging.
3. Collections
Collections allows you to gather information from different sites, then organize, export, or return to it at a later time. Doing these can be especially difficult if you're working across several sites and multiple devices. To use this feature, simply click on the Collections button and a pane will open on the right side of your browser window. Here, you can easily drag and drop web pages, text, images, videos, and other elements into a group, which you can then import to a Word document or Excel workbook.
4. Tracking prevention
Whenever you visit a site, online trackers can collect information about your internet activity, including pages you visit, links you click on, your search history, and more. Companies then use the data collected to target you with personalized advertisements and experiences.
The tracking prevention feature in Microsoft Edge is designed to keep you from being tracked by sites that you aren't accessing directly. It's enabled by default, and it gives you control over the types of third-party trackers to be detected and blocked, thereby enhancing your online privacy.
5. Password Monitor
Millions of online personal credentials are frequently exposed due to data breaches and sold on the dark web. To keep your online accounts safe from hackers, Microsoft developed the Password Monitor. When enabled, this feature notifies you if the credentials you've saved to autofill are on the dark web. It then prompts you to take action, allowing you to view a list of all the leaked credentials and then leading you to the respective site to change your password.
6. Immersive Reader
Built into the new Microsoft Edge, Immersive Reader makes reading online easier and more accessible by removing distractions on the page and creating a simplified environment that helps you to focus. This feature also gives you access to a variety of capabilities, including hearing text read aloud or adjusting the text size.
7. Easy switching
Microsoft Edge is available to download for Windows, Mac, iOS, and Android. What's great is that you can easily copy or migrate your bookmarks, form fill information, passwords, and basic settings to the new Microsoft Edge with just a single click.
If you want to learn more about the latest features of Microsoft Edge and how to enjoy these benefits on your business computers, give us a call today.
Published with permission from TechAdvisory.org.
Source.