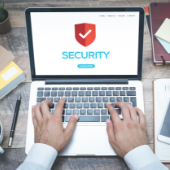 As viruses, ransomware, and spyware become more dangerous these days, it's more important than ever to have powerful antivirus protection. When choosing the right antivirus program for your computer, however, there are many things you should consider. Let's take a look at the most important ones.
Cost
There are free antivirus programs in the market, but they only offer basic protection that advanced malware can easily evade. There's also a risk that they contain adware, which collects data and sells them to third parties. Antivirus companies may even bundle potentially unwanted programs to generate revenue.
Speed and performance
Antivirus programs are notorious for consuming a lot of system memory, resulting in sluggish computer performance. Thanks to new technology, however, this problem has been addressed. Still, remember that antivirus performance is more important than device speed. What's the point of a fast computer if it's quick to succumb to hackers and malware?
Compatibility with multiple devices
Most people these days use or own more than one device, such as smartphones and tablets. Look for antivirus software that can protect all your devices, regardless of their operating system or date of purchase. It'll be inconvenient and expensive to have different security software per device.
Comprehensive protection
Your antivirus should protect your devices from a wide variety of cyberthreats. These should include popular malware and phishing attacks, as well as malicious downloads, denial-of-service attacks, cryptojacking, and other damaging threats.
Customer support and service
Take the time to learn more about the antivirus software manufacturer. Does the company have a good reputation? Do they actively discover zero-day vulnerabilities and new cyberthreats? And are they at the forefront of developing cybersecurity solutions? If they tick all the boxes, you're sure that their products and services are worth your investment.
Cybersecurity is not a luxury but a necessity for all businesses. If you're looking for the right antivirus protection, then let our experts help you. We'll provide you with the robust security your devices and network need.
Published with permission from TechAdvisory.org.
Source.